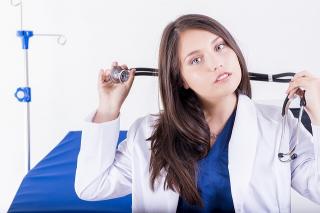 chiropractor miami" /> 
Instead of choosing a private practice chiropractor in Miami, consider Family Medical Clinic for accessible hours, a convenient location, and an affordable bill. If you need to see a chiropractor for post-accident adjustments or routine chiropractic care, you'll find FMC employs some of the highest-qualified chiropractors in Miami. You can learn more about the services our clinic offers when you continue to explore our website's resources. Click on 'Services' or 'Departments' for additional information.
Should I See a Chiropractor For My Pain?
If you're dealing with chronic pain that has not responded well to conventional treatments in the past, chiropractic care may be the ideal solution to managing pain. If you typically see a chiropractor on a regular basis, switching to Family Medical Clinic could save you money on treatment. Why not schedule a new-patient appointment with one of our chiropractors at FMC to experience quality care at a very affordable cost? You'll find our clinic a convenient alternative to visiting multiple locations for your family's medical care, with everything you need provided to you by a single clinic:
Wellness and sick visits
Gynecology
Lab work and blood work
Ultrasound technology
Post-accident care
Chiropractic adjustments
Imaging
Urgent Care
And so much more
Who is the Best Chiropractor in Miami?
Family Medical Clinic is home to some of the most qualified chiropractors in South Florida. If you thought that a medical clinic offered inferior care, you'll be pleasantly surprised to learn that FMC can offer exceptional care to every member of your family. From urgent care to routine office visits, beauty & wellness treatments, and chiropractic services, we offer a one-stop solution that will save your family time and money. You'll find a wealth of information offered on our website; feel free to explore our blog library for informative content and articles regarding our services.
Affordable Treatment, Less Wait Time
If you're currently seeing a chiropractor for regular spinal adjustments or pain management treatments, you'll love visiting Family Medical Clinic's chiropractors- and you'll spend less time in the waiting room, as well. We not only respect your schedule, but we're also committed to providing services that fit our patients' budgets. Best of all, you won't have to compromise on the quality of care you receive in order to save on chiropractic services. We accept insurance, and we work around your needs to customize treatment.
Book Online or By Phone
Connect with our staff at Family Medical Clinic when you need to see a chiropractor in Miami for post-accident treatment or routine care. You can book your next appointment through our website without having to pick up your phone; in a few short clicks, your request is on its way and we'll respond quickly with verification of your appointment time. At FMC, we love being a part of changes that improve your patient experience when you require chiropractic care. Consider our medical clinic for primary care wellness & sick visits, urgent care, and many additional services, as well.